littleblue
posted 08-08-2006 12:24 AM ET (US)
---
My First Trip to the Farallon Islands
I've been dreaming about making a trip out to the Farallon Islands for about 10 years now. For those of you who may ask, "Where are the Farallon Islands?," they are a set of islands located approximately 27-miles offshore of the California coast, almost directly west of San Francisco. They are home to an abundance of marine life, but most famously known for the number of Great White Sharks that pass through the waters following breeding Sea Lions.
Ever since reading an article on Rockfishing the islands, where I vividly recall tales of easy fishing and pictures of monster Lingcod, huge Cabezon, and fat Rockfish of every imaginable color, I have wanted to make a trip. At that time I was fishing out of a mid-1970's Fiberform deep-v, open bow tri-hull. Yeah, a bit of an oxymoron but hey, it was a tri-hull with a pretty decent sized V in the middle, more so than a Montauk anyway. In any case, this was the first boat that my father and I fished off, and we were just being introduced to fishing the San Francisco Bay. Traveling up the coast to Duxbury Reef (approximately 10 miles north of San Francisco) for Salmon was an offshore adventure in itself, much less 30 miles.
I can still remember the first time we ventured out to the Salmon Grounds (Duxbury Reef). It was a sunny morning and after motoring out of Sausalito we saw a huge fleet of boats, private as well as charter, heading out to the Salmon grounds. We followed until we reached the Golden Gate Bridge, not only the connector of San Francisco and Marin County, but a line separating the safe confines of the Bay and big dangerous waters of the Ocean. (In reality, San Francisco Bay is hardly the safest place in the world, butm in comparison to the potential of the Ocean, it seems that way.)
Up until that point, the normal routine was to turn east after exiting the Sausalito channel into the main and upper bays in search of Striped Bass or Halibut. On this day however, making the run west and following such a large pack of boats had my adrenaline rushing. A fourteen-year-old kid at the wheel of a 16-foot power boat, father riding shotgun, with tackle and rods on board was and still is, an exciting thing. I was driving a familiar position among boaters, with my left hand on the wheel and right hand on the throttle. The cold morning air whipped over the windshield and onto my face making it numb as we rode over glass-like water which eventually turned into a mass of colliding wakes and white foam from the other boats.
Stopping under the bridge to discuss whether or not to proceed, another small boat stopped and approached. "Are you going out," we asked. A large man wearing an even larger thick plaid shirt and yellow rain pants yelled out over the engine noise, "Yeah, it's supposed to be REAL calm today!" This was surely a sign from God telling us to head out and get some red meat for dinner, I thought. "You wanna run together," my father asked. "Sure, stick close--you'll have no problem," The man replied. And with that, the man turned around, grabbed the helm, popped up to plane and headed into the Pacific Ocean with us following behind. Heading out the channel of the Golden Gate we hugged the north side shoreline, and every so often I turned to look at the bridge, which slowly got smaller and smaller, our beacon of safety getting further and further away.
Back to the story at hand, we never really even entertained the idea of heading to the Farallones in that boat, and rightly so. Looking back, we probably shouldn't have even fished the coast with the frequency that we did, as we didn't even have a VHF radio. Being beginners, we were admittedly a little bit stupid. But that is another story (and thread) altogether.
Fast-forward ten years and three boats later, I had still never taken a trip out to the islands. In the interim, I went through a 1987 21-foot Sea Ray walk-around (my dad lost most of his passion for fishing after this boat), a 1990 13-foot Avon RIB (Rigid hull Inflatable Boat), a 1981 Montauk, and finally our current 1991 Outrage 19, with twin 70-HP Yamaha outboards.
With the Salmon deciding to hang out in places other than my main fishing grounds so far this season, I have started to target Rockfish with greater enthusiasm and frequency. It gets embarrassing to come home trip after trip with an empty 100-quart cooler and endless requests from family and friends for fish. With Rockfish being the target and frequent reports of trips to the islands with full limits, have a gander at what my brain told me to do? Yes, a trip out to the islands was finally not only a real consideration, but a safe consideration. After all, that is what my Outrage was built for! Full foam floatation, ability to rid hundreds of gallons of water in seconds (granted you have engine power), twin engines, twin steering cables, fixed and hand held VHF radios, GPS, waterproof map, compass, and most importantly a weather forecast of winds 10-knots or less, swells of 3-feet at 12 seconds and wind waves of 1 to 2-feet told me it was time to go. (The only thing that said no was the 30+ gallons of fuel those old twins would burn to get there and back.)
My fishing partner agreed with the idea to run and we meet up at the docks at 6 a.m. We headed out of the Sausalito channel with bright sun, cool air, and flat water.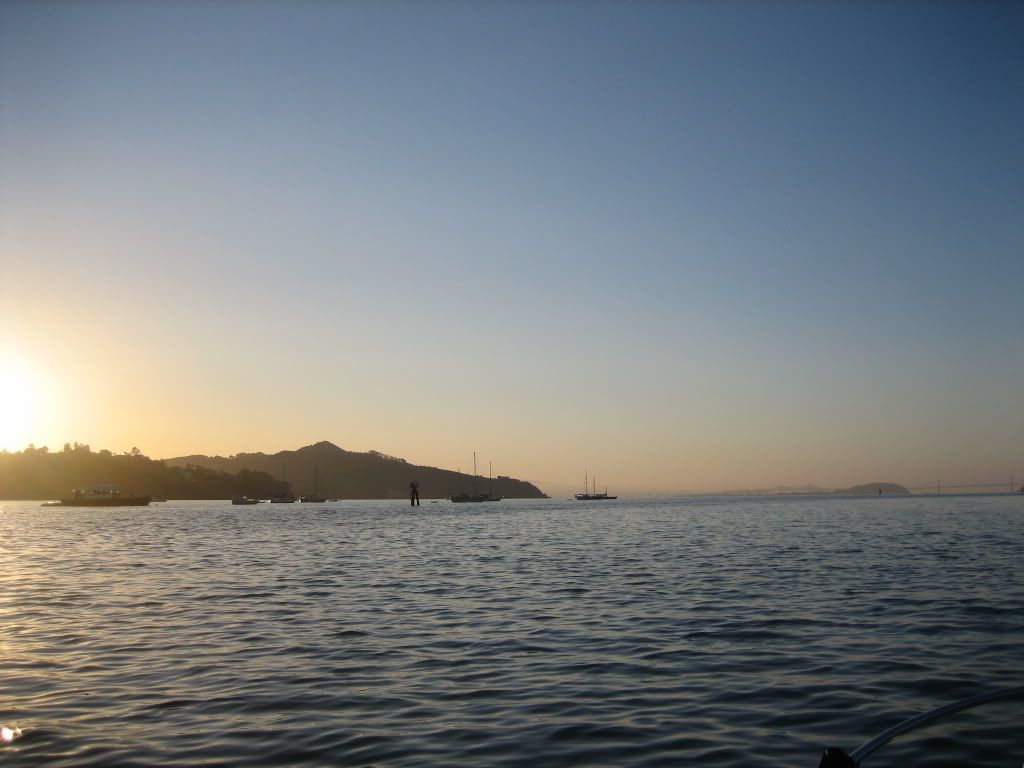 As we rounded the corner and the bridge started to come into view, there was once again, a fleet of boats heading out under the gate and we joined the pack.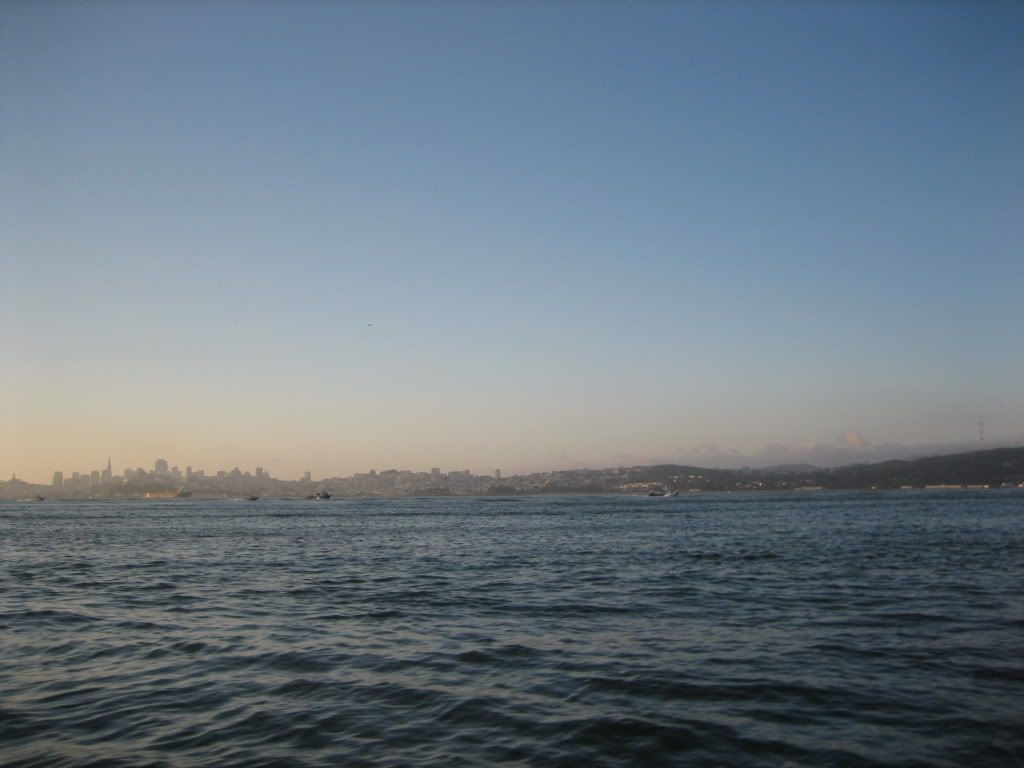 Little did I know that this time when I reached my destination, not only the bridge would be out of sight, but land all together.
About ten miles out we stopped over a large bait ball and dropped down Sabiki rigs (a series of six small hooks designed to catch small baitfish) and caught about 40 anchovies which were deposited into my new 17-gallon Kodiak live bait tank (which performed very well I might add). After half an hour we proceeded onto the islands traveling at an amazing average of 25-MPH on the Pacific Ocean in a 19-foot boat! My twin Yamahas hummed in unison at 3,700-RPM for what seemed to be forever and finally saw a haze of shapes that was the Farallon Islands in the distance. I pulled my digital camera out of my pocket and decided to snap a few quick pictures (while running) as I was trying to chronicle the whole day. Coming off one of the few larger waves we encountered on the way out, I dropping my digital camera onto the deck of my Whaler. Cussing myself out multiple times and 30 minutes later we reached our destination, picture duty relegated to my phone's 1.2-megapixel camera.
Being downwind from the islands, the first thing that hit me was the stench. It was the scent of bird droppings, not a new smell as I have smelled it before on some of the bigger rocks close to shore, but saying strong is really an understatement.
We dropped our lines with no bites for half an hour and then the bite turned on. My first fish was a very healthy Cabezon, one of the ugliest fish in our waters but pretty tasty.
We proceeded to catch another three or four Rockfish of various colors and then we had a short lull in action. As I moved my rod tip up and down, trying to simulate some type of injured fish with my jig, my fishing partner (Stephan) shouted out Oh ****! As I was turning my head I heard something fall into the water and when I looked, I saw the butt of my rod (he was borrowing) in the air, completely vertical and headed down to the depths of the ocean. Stephan made a grab just as the butt was going below the surface and pulled the rod out of the water. Apparently he was not paying attention and something of considerable size had yanked the rod right out of his hands! A five minute battle ensued with my lightweight Ugly Stick (fishing rod) doubled over as I've never seen it before. Mostly because he was pulling a fish straightup instead of up and out as would a Salmon, but still, it was apparent that the fish had some considerable girth. I got the gaff ready and as the fish broke the surface, I realized what it was. A monster Ling! The size that I had only seen in magazines and pictures of fishing reports from the Islands. (Minus Alaska--this would have been a guppy in Alaska.) It turned out to be about 40- inches--not too shabby and the photo does not do it justice whatsoever.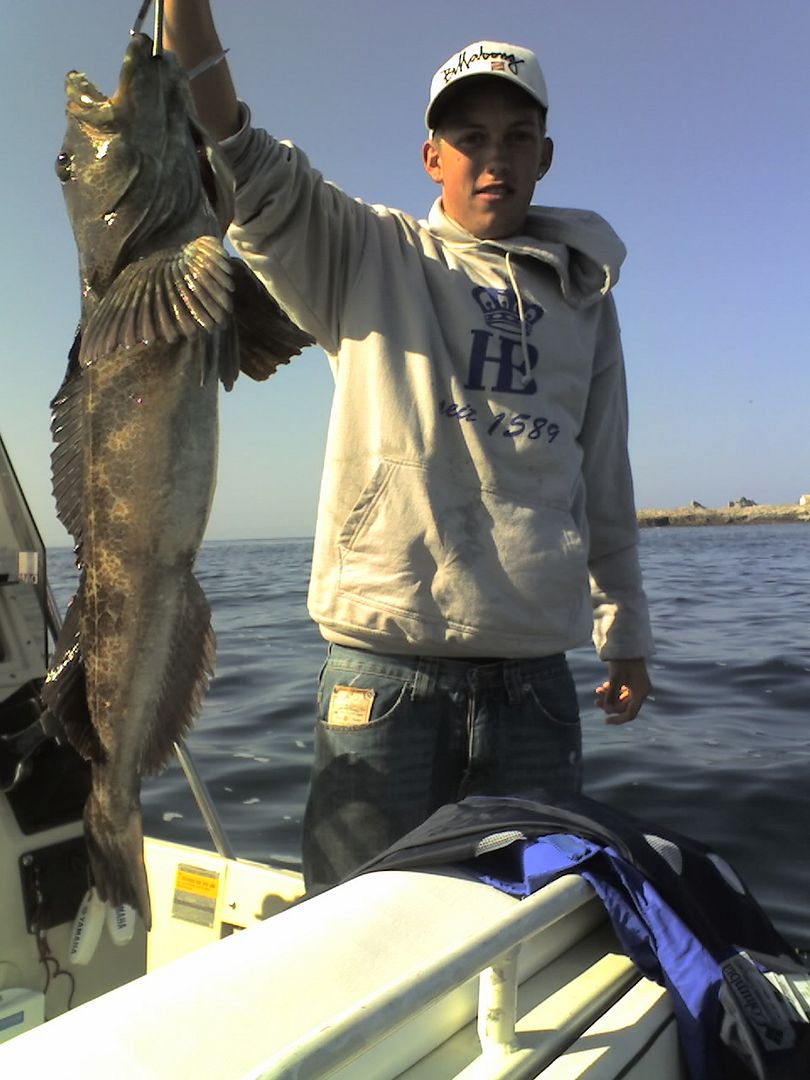 The day went on and we continued catching Rockfish of all types and colors, with names like China Cod, Olives, Blues, Blacks, Greenling, Cabezon, Lingcod, Black and Yellows, all biting our lines. We headed over to the northern islands and encountered a school of Blue/Black rockfish like I have never seen before. They were literally boiling on the surface, fish after fish after fish. I only had to drop my jig down two to three feet before it was attacked by countless numbers. Most of these were catch and release fish, but eventually we finished the day with limits (10 total rockfish each).
Going to the Farallons was quite an adventure. The rocks themselves have a very prehistoric and old appearance/feel to them.
I have never seen such a concentration of marine life--well actually wild life in general--in one place. The main island was full of noise that seemed to leap across miles of open water coming from Sea Lions, Seals, and Birds of all varieties. In the water, there were Dolphin surfacing, bunches of Seals and Sea Lions literally jumping out of the water in formation much like you would imagine Dolphin to do, Jelly fish, big fish, little fish, and more than likely a bunch of hungry sharks lurking in the depths dragging down a baby seal every now and again.
We made our way back home at around 3 p.m. with the wind starting to kick up. Most of the way we averaged 22-MPH, but when we reached the north bar we had to slow down to 17-MPH because of the following seas. It was nothing to worry about, especially with the 19 Outrage and its well-known reputation of being stable in a following sea. We made it in, but not at the 25-MPH pace we managed going out.
The last stop of the day was in Bonita cove where the winds were howling over 20-knots. I personally lost two big Halibut due to broken lines. Afterwards, we headed inside the bay, cleaned fish, cleaned and Woody Waxed the boat and called it a day at 7 p.m.