posted 10-29-2009 07:01 PM ET (US)
---
I hope everyone will forgive the lengthy post (and JimH, what are sure to be a host of bad links), but continuouswave is the best place I can think of to share a long trip with the Outrage.

Three friends and I normally tow two boats to the Sea of Cortez – specifically Punta San Francisquito -- in late spring for a few days of spearfishing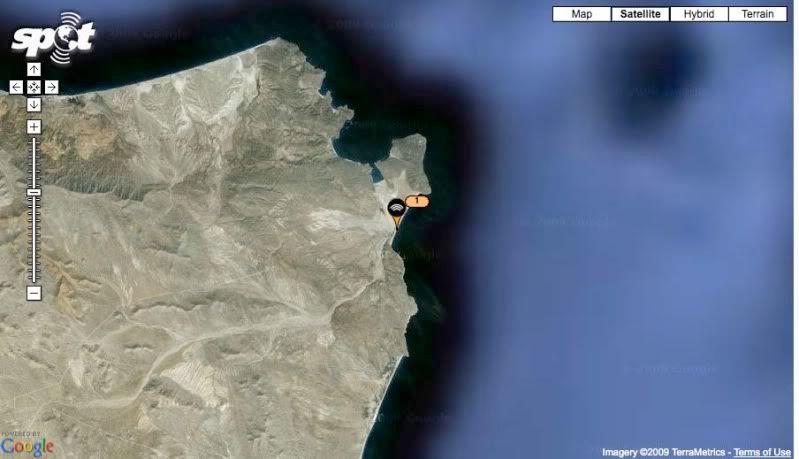 This year we waited until October hoping for warm water -- 77 degrees (daytime air temps in the mid 80's, nighttime in the low to mid 70's) -- and lots of tasty warm water fish. Apparently, someone told the fish we were coming. They were hard to come by. But the real fun is in the pursuit and we had lots of that.
We met at the launch ramp parking lot in Dana Point, CA, in a downpour. We packed the trucks, hooked up the Outrage and it's companion, a smokin' Bertram 20, "X-Games" and headed south.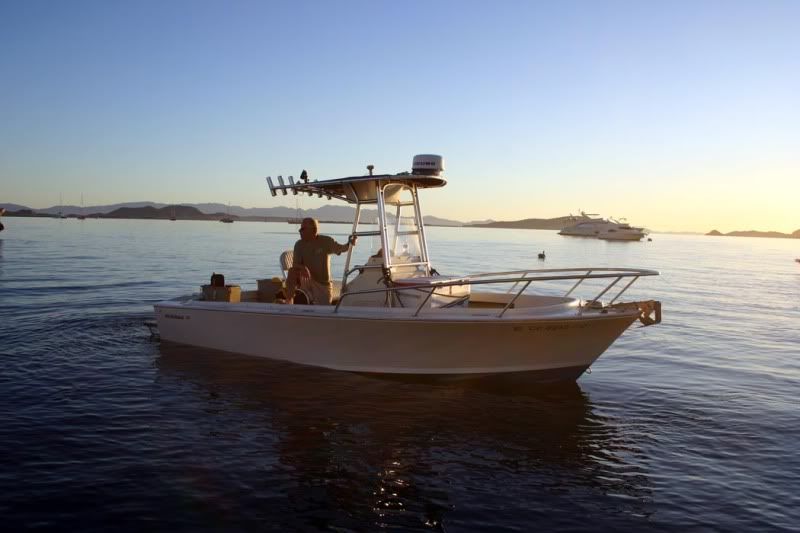 The weather cleared before we hit Ensenada.
We've learned to take nothing for granted and to be prepared for the unexpected, so we weren't too taken aback by the "Black Pearl" in the shipyard.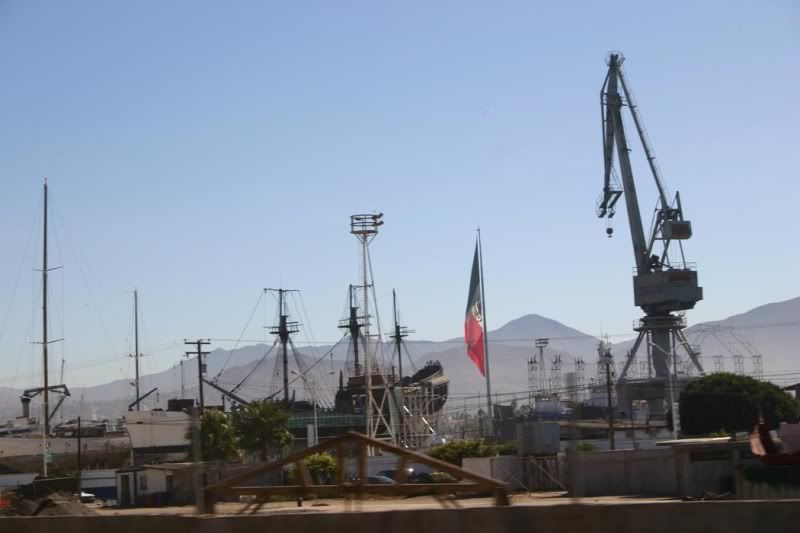 One of the group, Mark, can't let a Mexican restaurant (or taco stand) go unsampled, and he pressed us to try an "amazingly good" restaurant in San Quintin.
He was right. It really was amazing. Perfect linguini with chicken while watching a screaming westerly pelt the boats and trucks with grit.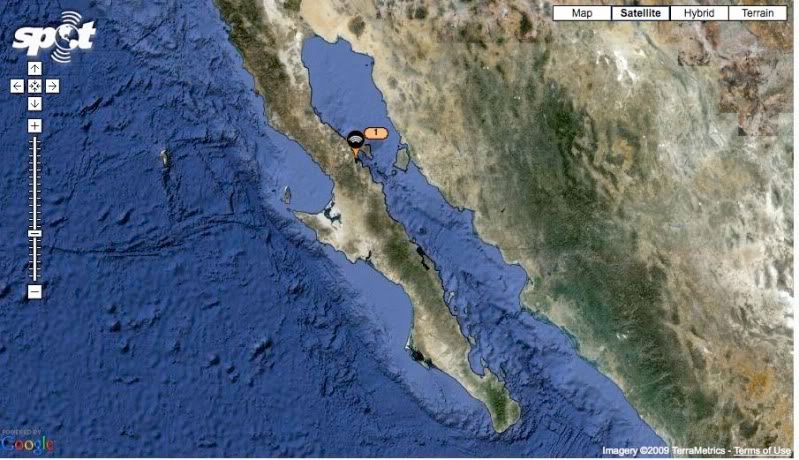 I should add that part of my Baja safety kit is a nuclear strength antibiotic. Didn't need it, though.
After 12 hours and almost 450 miles of small towns, countless speed bumps and seemingly endless desert we rolled into to Bahia de Los Angeles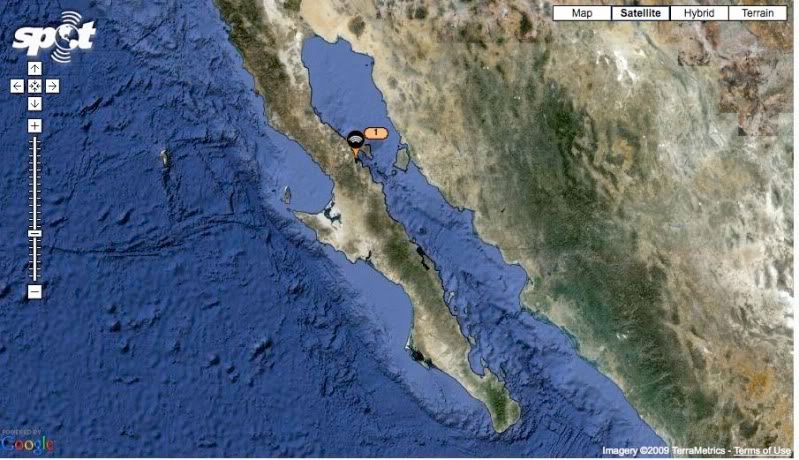 We fueled the boats and trucks (cheap gas!) and slept like 7-year-olds on Christmas Eve.

The next morning we packed the boats to the gunnels and were ready before dawn.
After a brief wait for the hotel's coffee service, we splashed the boats into the Sea of Cortez before heading into the rising sun at 23 knots. Leaving the Bay, we turned southeast for the 50 mile run down the east coast of Baja.
A pod of sperm whales broke up the trip. They weren't friendly.
We arrived at San Francisquito without incident, unloaded the gear and headed to a favorite reef for an afternoon dive. Unfortunately, the wind had been building steadily and was now blowing a steady 20, which combined with a 2.5 knot current made diving difficult.
I don't remember if it has been discussed on continuouswave, but both boats had new SPOT Locators on them: http://www.findmespot.com/en/. I can't say enough good things about them. The units told our loved ones where we were and that we were safe several times a day. Our designated 911 contact, a San Francisquito regular, said he really enjoyed watching our trip unfold from his office in Los Angeles with each new email from SPOT.
We had a difficult time finding fish the whole trip, but that just meant more exploring in the Outrage. This was our first visit to Isla Esteban in the middle of the Sea of Cortez.
Here X-Games powers past Isla San Lorenzo on it's way to Esteban
.
Baja's history is volcanic so its topography can be dramatic, including the western face of Esteban.
The diving was slow there too, but the huge population of sea lions kept things interesting. They are alternately threatened and amused by freedivers. Harmless, but noisy and distracting.
They also attract HUGE sharks, so we looked over our shoulders a lot. No big sharks sighted, just one 6 or 7 footer that apparently followed me when I should have been looking over my shoulder. My buddy saw it from the boat and came over, but it melted into the gloom, and I never saw it. They're alarmingly good at that.
The Sea of Cortez can test you. On some days it will alternate between flat and bone jarring every few hundred yards. Here, current races by a corner of Esteban before flattening out.
.
We found a few fish the second day, so we anchored off Isla San Lorenzo to clean them and straighten up the boats.
The man cleaning the fish, Ron Mullins, devised this cleaning table that's a back saver for those of us in the over 50 club. He made two poles that fit in rod holders and slide over inserts under the table. This makes the table waist high. No more bending over to clean fish, and it stows reasonably well inside the gunnel.
After the work, we enjoyed an idyllic 25-knot cruise back to the resort.
For the record, "resort" is a little misleading. It's primitive. We sleep on cots in "Cabanas" with corrugated roofs and thatch over the metal. The front of each cabana is open and faces east into the gulf. We love it. If you can get past the cacophonous snoring of four middle aged men, you can't beat it. Sunrise.
The patio.
The view looking north.
For the record, many people drive here. It's a 4-hour, 80-mile dirt road form BOLA. But most guests fly their own planes in. We're one of the few groups that arrive by boat. This year we tied them to a dock in a natural bay or "caleta" two miles across the peninsula.
Every year when we load the boats for the final day of diving, we take everything with us. After diving, instead of returning to the resort, we run 55 miles back to BOLA. To help, the resort provided us with its finest shuttle.
Consistent with all vacations, an hour before we had to stop diving on the last day of the trip, we finally found the fish. Big, fat, tasty leopard grouper that had eluded us and now seemed to taunt us. A few of them paid for their insolence and spent the rest of the day on ice, but most of them still swim.
But we'll be back next year.
We skipped back to BOLA at 24 knots in a 15 knot southerly, reloaded the trucks.
We cleaned up and enjoyed a last cold, cold margarita. My GPS said we put 305 miles on the Outrage. Average speed: 9.7 knots. 3.86 mpg. The slow speed and low mileage were due to lots of "live boating" in which three men dive while the fourth plods around in the boat catering to the divers.
The mark of a successful trip: dazed, wind burned, crispy, happy divers.
The next morning we were up before dawn for the long drive back to reality. Here, our last stop in Mexico. Checking the rigs with San Diego's Point Loma in the background.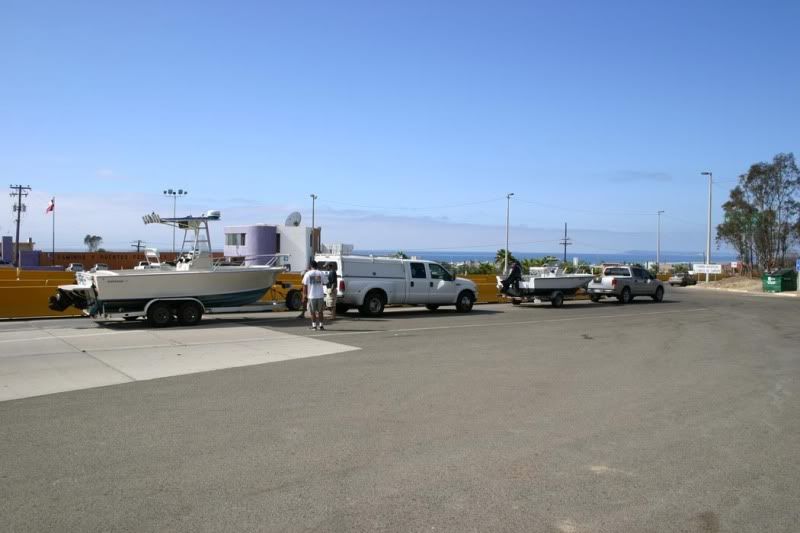 At the risk of sounding maudlin, I turned 50 this year, and more than ever I thank my lucky stars that I have a wonderful wife who tolerates me, three great friends with a shared passion (and probably a screw loose).
And the perfect boat for a Baja road trip.